Advantages
---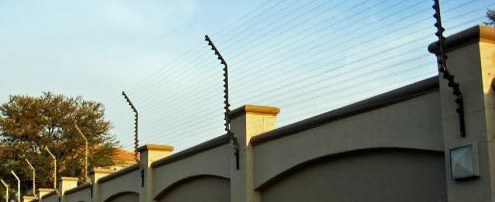 Peace of mind
The need for higher levels of security and peace of mind is growing rapidly in Cape Town. A Live Wire Electric Fence acts as your 24/7 Electrified Patrol.
When fully operational, it does not sleep and is your effective early warning device to keeping unwanted criminals out.
---
Visual Advantage
It is an extremely effective intruder deterrent.
---
Back-Up Alarm & Strobe Light
Part of your installation is a Siren/Alarm and a Strobe Light warning system. A Live Wire Electrified Fence can also be linked to your house alarm system.
---
High Voltage Electric shock up.
UP TO 10,000 VOLTS. Pain and shock! Say no more!
---
Battery Back-Up
In the event of a power failure, our Energiser's have a 6-8 hour battery back-up to keep the fence fully charged.
Batteries should recharge and need to be replaced when flat (no guarantee on batteries). Ensure that the Power Plug for the Energiser is always on.
---
Live Wire Guarantee
Live Wire offers a full 24 month Manufacturer's Warranty on our Energisers and a 12 month guarantee on workmanship and on all parts installed. This excludes breakages due to malicious damage or storm damage etc.
At Live Wire we understand that Electric Fences need to be serviced and maintained to operate at optimum levels ensuring your safety. With 3 full time Service Teams to keep you fully operational, in or out of Guarantee, at reasonable rates we are at your service!
online quote
call me back
Nov. 20, 2013, 4:20 p.m
Invest in your family's safety - Electric fencing
One has only to look at the daily news articles available locally to understand and realize that the personal safety of yourself and your family is constantly under imminent threat.
Read More